When you think of travel in Costa Rica, you probably think of beautiful blue and green aerial images of jungle beaches: lush, peaceful, and inspiring. You already feel immersed. It's typical to see Costa Rican beaches as the ultimate destination for relaxation, wellness, and adventure. But if you dive deep into the Northern region of Guanacaste, you will discover more: volcanoes and mountainous landscapes, rivers and lakes, small rural historical pueblos, and even an underwater cave. How to choose? Where to start?
We present to you a quick review of the Northern Pacific region of Costa Rica and the top outdoor activities in this area. Guanacaste is a special part of the country to visit because for several reasons: the diversity of wildlife, the variety of surf breaks both for beginners and experts, the easiness of beach hopping, the proximity to many national parks, plus amenities and stays of all types, ranging from luxury hotels to small cabins.
It's also a top destination for ex-pats and for second homes. Guanacaste is growing and welcoming foreigners in a friendly way that benefits everyone. There are schools being built as well as hospitals and medical centers that offer universal healthcare. The international airport in Liberia, the capital city of Guanacaste, keeps growing and more flights are being opened to the US and Canada. Rental cars and shuttles are very popular and easy to use, and pretty much everyone in the tourism sector and the surrounding towns speak English.
Guanacaste has been growing for the past decades and has been attracting nature-loving, like-minded people from all around the world. Because of this, there is a good family and community feel in the majority of the beach and mountain towns. Both the local communities and the ex-pats are very welcoming and the culture enjoys serving and working with tourists.
Are you convinced? Will you just visit or will you stay?
So let's see. If you love outdoors, watersports, hiking, and more, Guanacaste has many options. Let's start with Arenal, Costa Rica's most famous and iconic volcano. This volcano was active from 1968 to 2010, making it the tenth longest duration volcanic eruption on Earth since 1750. Its activity attracted many nature-loving tourists throughout those decades and nowadays there are all types of nature, wellness, and tourism amenities in the area. There is also a huge lake, hot springs, and surrounding mountains all accessible to hiking. Zipline is a popular activity since the 90s and if you love birdwatching and looking at tropical animals, you can immerse yourself in this activity too. Arenal is part of San Carlos, in the province of Alajuela but the region and hotel names also go by the district name 'La Fortuna'.
1. Canyoning or rappelling
La Fortuna area has many waterfalls, and the best way to experience them is certainly canyoning. Canyoning is the sport of exploring a canyon by engaging in activities such as rappelling, rafting, and waterfall jumping. Most tours in this area will offer to rappel. You will hike, you will climb, and then you will safely attach to a harness and slowly come down the face of a wall. You are wrapped up in water, trees, bushes and literally inside all of the jungle elements. You will get dirty, you will feel the adrenaline at points. If you like adventure and getting deep, this is definitely worthwhile.
2. Ziplining or canopy
Another adrenaline rush and fun immersive activity we recommend in Arenal area is the zipline tour. You will be gliding at a safe speed through the rain forest. The tallest canopy company averages 660 feet and connects eight cables to add 4.5 miles of fun. The longest ride is 2500 feet and this one does go very fast! Throughout the whole experience, your guides make sure harnesses and safety is carried through. You are surrounded by the forest, trees and animals. The views in some of the trees where you take off of the volcano are very unique and breathtaking.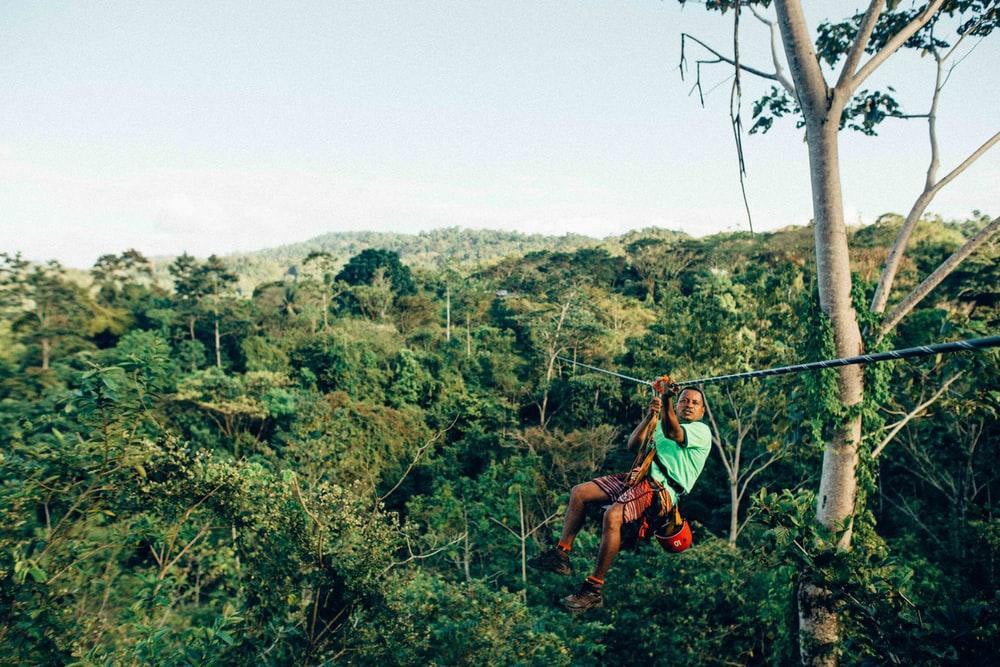 3. Hot Springs
Not an adrenaline junky? Ready to sit, relax and soak in the beauty around you? We recommend the hot springs of Arenal. The hot thermal pools are extremely relaxing and a great way to end a day of hiking or ziplining to give your muscles a break. Some hotels have private hot springs but there are many that are open to the public with reservation and a fee. The most known ones are Baldi, Titoku, Ecotermales, Tabacón, Kalambu and Paradise. The Tabacón river entrance is the original hot spring where most locals go. It's public, free and has a small parking lot where you can access the entrance.
4. Hanging Bridges
The tour company called Mistico has one of the most fun ways of exploring the surrounding rainforest and mountain: hanging bridges. These trails are easy, you can go at your own pace, stop to breathe deeply and admire the butterflies, and enjoy the amazing views. In total, there are 16 suspended and hanging bridges, adding to 1.9 miles. With a tour guide, you can spot snakes, birds, bats, and other wildlife.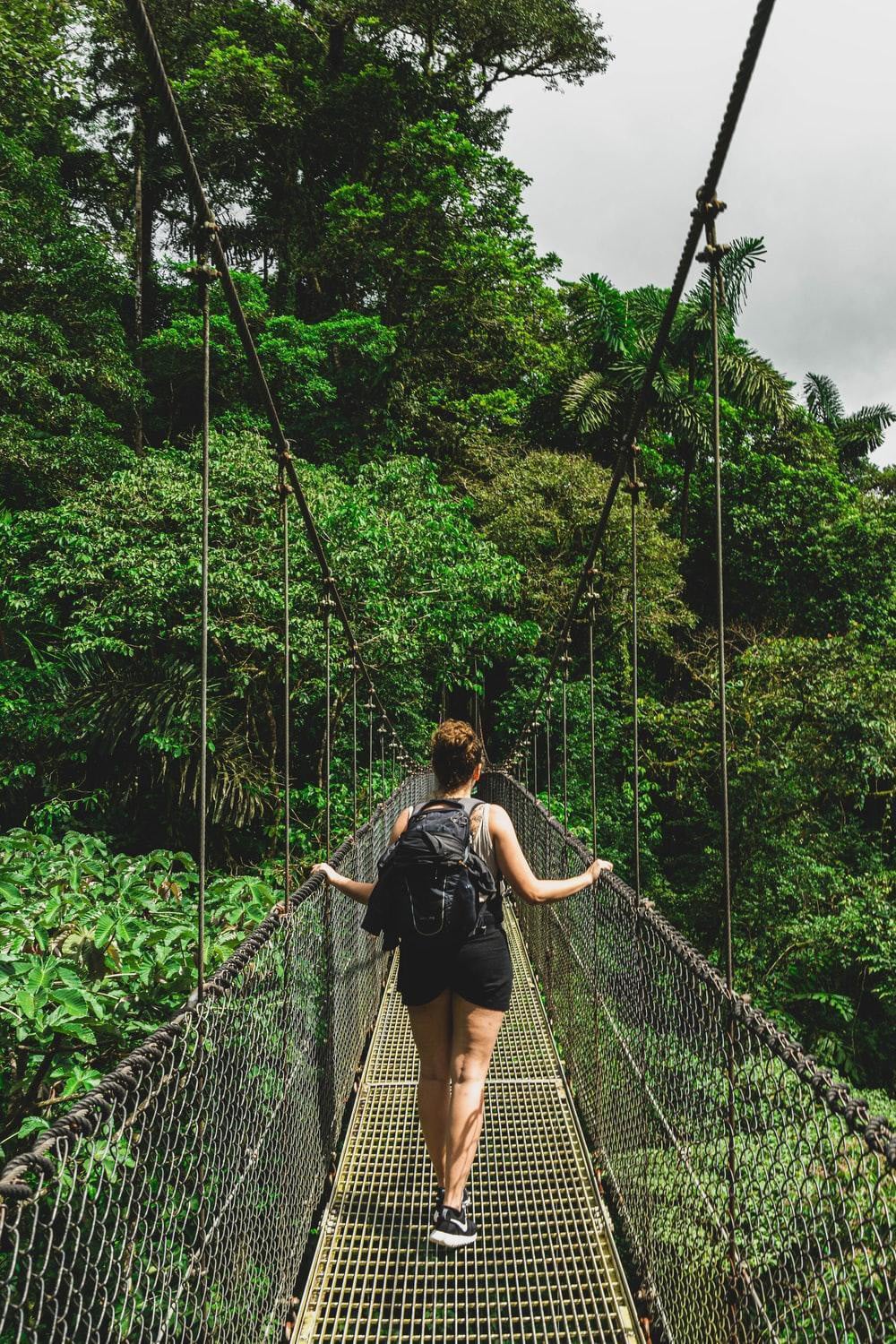 5. Horseback Riding
If you want to go deeper and more rural, renting a horse is a very entertaining and relaxing way of exploring the area. You'll get deeper than what a car can take you and most guides will show you the valley and hills. Some companies combine this tour with ATVs, so you can choose which method of exploration you want. Guanacaste and Costa Rica in general are horse-friendly cultures. Rural mountain villages make use of horses frequently and most people care for them properly. For the slower traveler, horseback riding around the Arenal area is a must.
6. La Fortuna Waterfall
This waterfall is one of the most iconic waterfalls in the country. The water comes from the Arenal River, all the way from the dormant volcano, and plunges over a cliff over 75 feet to create an impressive splash in a deep turquoise lagoon. Access costs $18 and you climb down a short hike to the base of the pool. You can swim and play in the stream below safely because there is a lifeguard on duty. There are other smaller waterfalls in the area but this one is the highlight of the zone.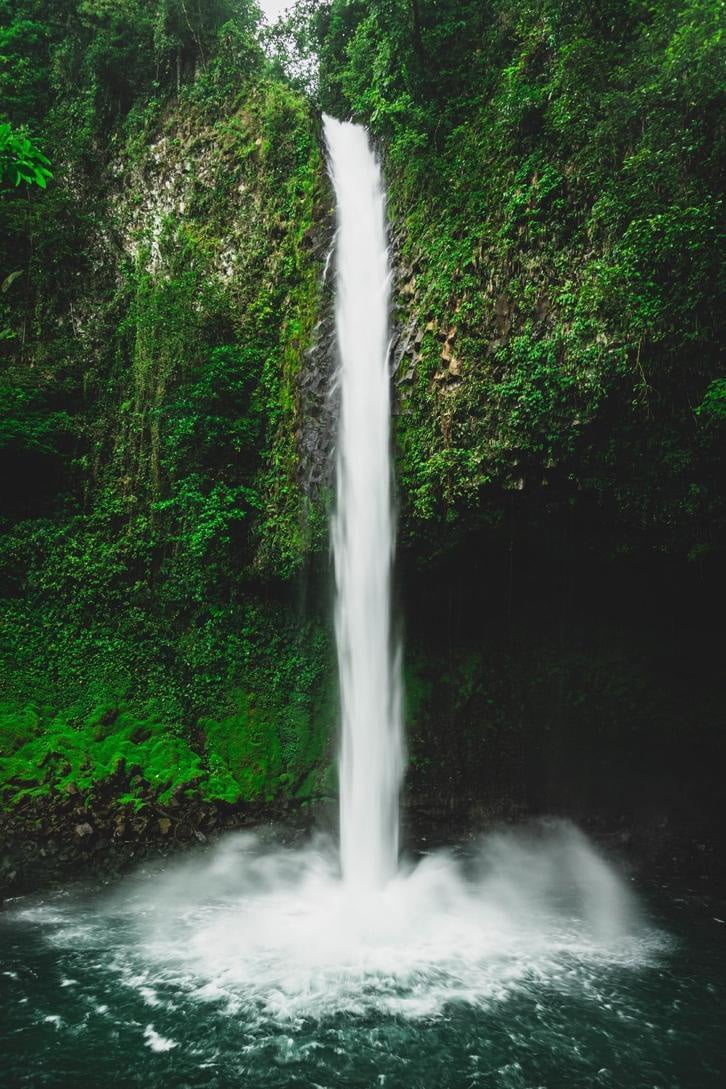 7. Lake Arenal
Costa Rica's biggest lake is actually man-made. The lake was expanded in 1979 with the construction of a dam as part of a hydroelectric project. At this time, it was generating 70% of the country's electricity (nowadays it's down to 17%). At the bottom of the lake are the old towns of Arenal and Tronadora. When the government and the electricity company decided to expand the lake, the towns and people were relocated, the land was repurchased, buildings were throw down, and nowadays the remains are underwater. If you manage to meet an older local in the nearby towns, ask about the old Arenal town for stories. Nowadays, the lake that ranges from 100 to 200 feet, and expands around 33 square miles is a huge tourist attraction. You can rent jet skis, paddleboards, kayaks, go fishing, wind or kitesurf, you name it. It's a fun water sports playground and has a unique view of the volcano.
Convinced yet?
And this is just the beginning of the Arenal and Fortuna area. Guanacaste has a lot to offer. We recommend a three to six-day stay to really immerse yourself in the nature, the views, meet and understand the locals and the community, and just relax. One of the main purposes of travel is to disconnect and unwind, and what better space to do it than in Costa Rica? All the amenities, tourism and the landscape itself guides you to this. In one day, you can hike through a wild rainforest and cross aerial bridges, go relax your legs and muscles in the hot springs, and close your night drinking a beer with good food with a view to the largest volcano in the country. You are guaranteed to let go of stress. Guanacaste is ready to show you a good time.